Keylargo Industrial Sdn. Bhd.
73, Jalan Industri 2/5,
Rawang Integrated
Industrial Park,
48000 Rawang,
Selangor, Malaysia.

+603-60942099

+603-60942033

4" DS Pumps Series
Dynatech --- Pump ---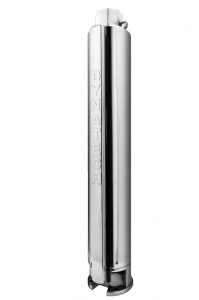 Casting Stainless Steel For : Top Bracket, Bottom Bracet
The top and bottom bracket are made up of casting stainless steel for maximum strength and durability.
Special glass filled engineered composites (glass filled polycarbonate*) is used for impeller and diffuser.

Superior strength for maximum resistance against wear and tear.
Permanently bonded through a process called sonic welding, which maintains smooth passage and efficient flow through the stages.
Will not corrode and very resistant to algae and mineral build up.

A special polyurethane material for top bearing.
Floating impeller and flat wear ring design offer superior and handling capability
Powered for Continuous Operation.

All rating are within the working limits of the motor. Pump can be operated continuously without damage to the motor.

Field Serviceable.

Pump can be rebuilt in the field to like new condition with common tools and readily available spare parts. The pump is designed with left hand casing threads.

Sand Resistant Construction.

Field proven almost four decades, face clearance design and floating impellers for an extremely abrasion resistant configuration.

Stainless Steels Metal Parts.

Bowls,Casing , Discharge head, Motor Adapter, Shaft, Coupling, Bushings, Cable Guard, Stainer, Check Valve are constructed of a corrosion resistant, non-toxic and non-leaching stainless steel.

FDA Compliant Non-Metalic Parts.

Impellers, Diffusers and Bearing Spiders are constructed of a glass filled engineered composite. This material is corrosion resistant and non-toxic.

Discharge Head :

High profile precision cast stainless steel for superior strength and durability. Cast in loop for safety line.

Motor Adapter.

Precision cast stainless steel is extremely rigid for accurate alignment of wet end to motor. Generous space for removal of motor mounting nuts with regular open-end wrench.

Bowls.

Stainless steel for superior strength and abrasive resistance.

Built in Check Valve.

Built in check valve constructed of stainless steel and law compression, FDA compliant, BUNA rubber for excellent abrasive resistance and quiet, efficient operation.

Urethane Upper and Intermediate Bearings.

Fluted design for free passage of abrasives and excellent resistance to sand damage.

Stainless Steel Casing.

Polished stainless steel is attractive and durable in the most corrosive water.

Hex Shaft Design.

Six sided shafts for positive impeller drive.

Shaft Coupling.

Exposed for ease of field alignment to motor shaft and to check pump rotation.

Strainer.

Non collapsible stainless steel with generous water passage for maximum design flow.